7 Best Gaming RAM Kits in 2022 – Gaming RAM Kits for PC – Popular Mechanics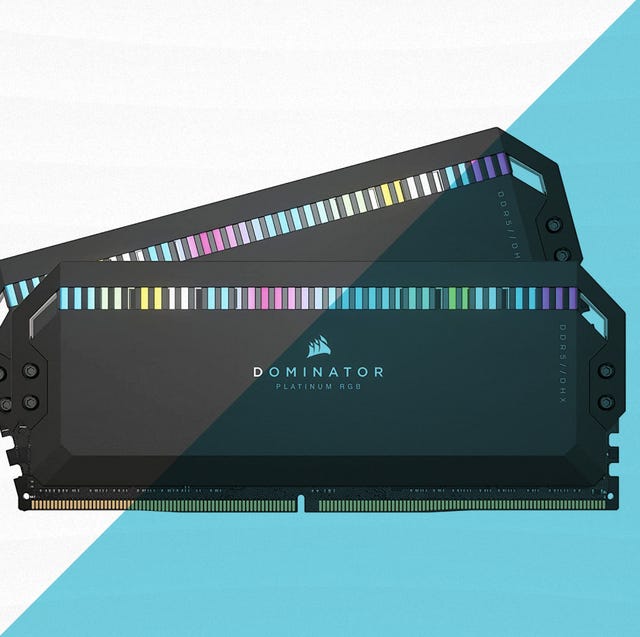 Staff, Courtesy of CORSAIR
When building or upgrading a gaming PC, RAM is not usually the highest priority. A powerful CPU, GPU, PSU, and cooling solution tend to take priority, as these components can mean the difference between a powerful PC and a large, tech-loaded paperweight. But more and more, we're seeing big new PC titles come with hefty minimum system requirements. A key aspect of those requirements is ample, efficient RAM. Thankfully, unlike the best graphics cards, the best gaming RAM is widely available, and doesn't cost hundreds of dollars to purchase.
What to Consider
Buying computer parts of any kind can be scary. The sheer volume of technical specifications can overwhelm even tech-savvy shoppers. This is even more true when buying for gaming PCs. While there are too many considerations to list here, keep your eye on these key specs when shopping for RAM.
Motherboard Compatibility
Every stick of RAM isn't compatible with every type of motherboard. Double check your motherboard chipset, and make sure it's compatible with the RAM you are buying. We recommend using a site like PCPartPicker to assist. Also, always buy a single memory kit for your PC; never mix and match RAM from different kits.
RAM Type
Nearly all current RAM uses DDR4 architecture. While DDR5 is on the horizon, only the newest, most high-end systems are actually compatible with DDR5 RAM.
RAM Capacity
Most RAM comes in either 16GB or 32GB kits. For most people, 16GB is enough. However, if you plan on doing video or photo editing tasks regularly, you may want to consider 32GB.
Frequency/Speed
Every kit of RAM, separate from its gigabyte (GB) capacity, has an internal speed, measured in megahertz (MHz). Most gamers will be satisfied with a RAM speed of 3200MHz. RAM faster than 3200MHz tends to result in higher costs with diminishing performance returns. Generally speaking, having more RAM capacity, rather than higher Mhz values, will lead to faster speeds.
Latency
Also referred to as RAM timing, this is a simplified measurement indicating how long it takes RAM to access specific data. The lower these numbers are, the better.
How We Selected
Many of these recommendations come from hundreds of hours of in-house use. For the products we couldn't test ourselves, we perform intensive research, reviewing content from expert sources like PC Gamer, PCMag, CNET, Tom's Guide, DigitalTrends, and others, as well as thousands of consumer reviews from online storefronts like Amazon, Newegg, Best Buy, and Walmart. As for the products themselves, we evaluated them on performance, design, build quality, and price.
1
Best Overall
Vengeance LPX
Affordable
Widely compatible design
Not a good fit for tinkering or overclocking
Key Specs
Memory Type: DDR4
Capacity: 16GB (8GB x2)
Speed: 3200MHz
Latency: 16-18-18-36
The Corsair Vengeance LPX is a longtime favorite among PC builders. For most people, this kit of RAM checks all the boxes. It's an affordable 16GB kit of DDR4 RAM with a 3200MHz frequency, low latency, and an understated design. One of its biggest strengths is compatibility: this kit is compatible with a wide range of motherboards, and its low-profile design makes it a good fit for smaller PC builds too.
With over 54,000 ratings on Amazon, the Corsair Vengeance LPX is an enduring classic among DDR4 kits.
2
Best High-Speed
Trident Z Neo
Great Performance
Room for overclocking and customization
Key Specs
Memory Type: DDR4
Capacity: 16GB (8GB x2)
Speed: 3600MHz
Latency: 16-19-19-39
If you are an experienced PC builder who loves to tinker with timings and overclocking, you'll appreciate the speed and flexibility of this G.Skill Trident Z Neo kit.
With a sleek design and customizable RGB, the Trident Z Neo looks great in any colorful PC case. Internally, these sticks are fast, with a 3600MHz-rated frequency. After adjusting speeds and latency, this RAM kit can offer even better performance for those with the time and knowledge to tinker.
3
For Lower Latency
Ballistix
Low-latency performance
Affordable
Slightly slower AMD performance
Key Specs
Memory Type: DDR4
Capacity: 16GB (8GB x2)
Speed: 3200MHz
Latency: 16-18-18-36
Another classic pick among DDR4 RAM, Crucial's Ballistix series has endured thanks to a combination of affordability, simplicity, and performance. Similar to the Corsair Vengeance LPX, this Ballistix kit features a widely compatible, low-profile design that's a great fit for large and small PCs alike. The Ballistix series is also known for its low, stable latency, ensuring consistent performance across all tasks for years to come. Available in three colorways, the Crucial Ballistix is a great kit for anyone seeking simple, stable performance.
4
Entry-Level RGB
Vengeance RGB PRO
Affordable for RGB
Supports Corsair and third-party RGB software
Key Specs
Memory Type: DDR4
Capacity: 16GB (8GB x2)
Speed: 3200MHz
Latency: 16-18-18-36
More and more gaming components and peripherals these days come with customizable RGB lighting. For those who've hand-selected a fully RGB setup, there is a colorful joy in the diffuse glow of a matching RGB gaming rig.
For RAM that offers excellent RGB at an affordable price, we recommend Corsair's Vengeance RGB Pro kit. On the performance side, this kit goes toe-to-toe with all the major competitors. But its real selling point is its customizable RGB, with each stick containing 10 controllable LEDs. Customizing via Corsair's iCUE software—or your favorite third-party program—is simple, and leads to some dazzling effects.
5
Extravagant RGB
Trident Z Royal
Beautiful design
Wide variety of speed options
Key Specs
Memory Type: DDR4
Capacity: 16GB (8GB x2)
Speed: 3200MHz
Latency: 16-18-18-38
RAM with customizable RGB is one thing, but G.Skill's Trident Z Royal is something else entirely. One of G.Skill's most premium RAM options, the Z Royal distinguishes itself partly with its speedy performance, but mostly because of its unique design. It features a brushed metal look with a beautiful crystal-like top section containing eight LEDs within. When lit up via G.Skill's Trident Lighting Control software, these sticks instantly bedazzle the inside of any PC case.
While we recommend a more standard 3200MHz frequency, the Trident Z Royal does come in a wide variety of frequency options, all the way up to 4800MHz.
6
For a Minimalist Design
Viper 4 Blackout Series
Affordable, especially for 3600Mhz
Sleek and minimalist design
Not a good fit for advanced overclocking
Key Specs
Memory Type: DDR4
Capacity: 16GB (8GB x2)
Speed: 3600MHz
Latency: 17-19-19-39
Many PC builders want fast, reliable speed without flashing RGB lights. The Patriot Viper 4 Blackout Series is a great 3600MHz option that prioritizes sleek design over maximalist lighting. The dark, brushed metal exterior of this kit pairs well with dark PC builds, or any build omitting side-panel windows.
While not as low-profile as the Corsair Vengeance LPX, the Viper 4 can still fit decently in small-sized, minimalist PC builds.
7
Next-Gen DDR5
Dominator Platinum RGB
Exceptional performance
Efficient heat-sink design
Ultra-bright customizable RGB
Limiting DDR5 compatibility
Very expensive
Key Specs
Memory Type: DDR5
Capacity: 32GB (16GB x2)
Speed: 5200MHz
Latency: 38-38-38-84
Anyone seeking to futureproof a top-tier gaming desktop may want to consider RAM with DDR5 architecture. If your PC build has a compatible CPU and motherboard, DDR5 RAM offers new, powerful performance ready for the latest generation of games and tech.
Corsair's Dominator Platinum RGB kit is the full DDR5 package: excellent performance, incredible build quality, a 32GB capacity, and customizable RGB. Like the DDR4 version of this kit, the Dominator Platinum RGB features an impressive thermal design well-suited to tinkering and overclocking.
While the DDR5 version may have higher latency, fans of performance RAM can buy this kit and rest easy, knowing they won't need to upgrade for a long time.
This content is created and maintained by a third party, and imported onto this page to help users provide their email addresses. You may be able to find more information about this and similar content at piano.io